Crochet 15 Pixar-Inspired Patterns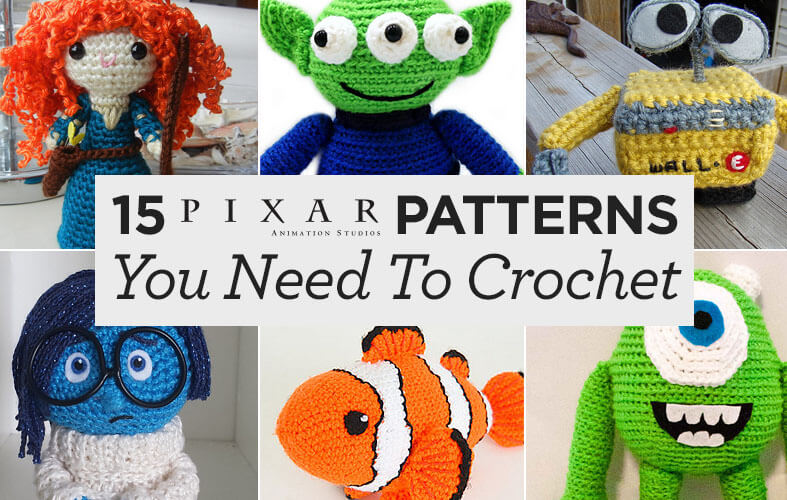 |
Great Roundup of Pixar Characters for Crocheting.
Some of these patterns are for sale but most of them are Free.
I think I had a smile on my face for almost all of them.
Not enough time in a day!  For a lot of them you could do them in one evening.
1. 2015: Inside Out

Use this free pattern to make Sadness from the brilliant new Pixar film, Inside Out.

2. 2013: Monsters University

We love this version of Sulley from the prequel to Monsters, Inc.

3. 2012: Brave

Make a mini Merida for the Brave girl in your life.

4. 2011: Cars 2

Redneck tow truck Mater becomes an international spy in this successful sequel.

5. 2010: Toy Story 3

We never want to relive the traumatic Toy Story 3 scene involving the furness, but we do like this characterful version of baddie Lotso.

6. 2009: Up

Although the first portion of this 2009 classic never fails to make us weep, we love it all the same, especially adorable Russell and all his badges!

7. 2008: Wall-E

Make the world's cutest robot with this amazing free pattern.

8. 2007: Ratatouille

Need a little rodent chef to help you out in the kitchen? Remy is the rat for you! Plus, the pattern's free!

9. 2006: Cars

Little people will love racing around in their own Lightning McQueen hat.

10. 2004: The Incredibles

We're not sure how stretchy she is, but we adore this free Elastigirl pattern!

11. 2003: Finding Nemo

If, like us, you're getting excited about upcoming release Finding Dory, relive the magic of the first film by making a cute clown fish.

12. 2001: Monsters, Inc.

It's hard to believe that this film is nearly 15 years old already. With his ball-shaped body, big eyeball, and skinny arms and legs, Mike was made for amigurumi! Make your own with this free pattern.

13. 1999: Toy Story 2

After a long time in storage, Bullseye was delighted to meet Woody in Toy Story 2, and we were delighted to meet him too! Create those doleful eyes in crochet form with this free pattern.

14. 1998: A Bug's Life

Loveable Flik is an individualist ant who longs to be an inventor. Who knew crocheted bugs could be so cute?

15. 1995: Toy Story

Use this free pattern to recreate Pixar's first, and some would argue greatest, movie: Toy Story. All together now… "The claaaaw!"
Please note that this round-up is not affiliated with, maintained, authorised, endorsed or sponsored by Pixar.