Weaving an On-Trend Wall Hanging – Free Instructions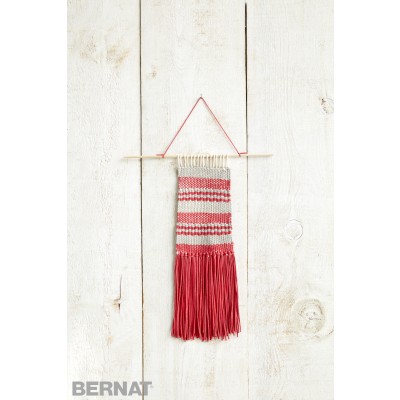 |
Have you ever wanted to try your hand at weaving?  This is the perfect project for that!
I know that this is not knitting or crocheting, which is what you are used to, but it looks like a really fun change of pace, and you can begin to learn a new skill and try your hand at weaving as well!
All that you require is some yarn in colors of your choosing, an empty picture frame which is roughly 9 x 13″ or size of your choice, some pushpins, a tapestry needle that you can thread yarn through, and a good pair of scissors.
Of course if you like the process, you can then investigate getting a proper tabletop loom (or larger) and carry on from there, and see where your exploration can take you.
I find in myself and a lot of crafty people that I know – if you enjoy working with wool/yarn, and can knit or crochet, or both, that it is fun, and satisfies your curiosity about working in other manners with yarn, and seeing what other applications you can use it in.  Perhaps you have some remnants of specialty yarns in your stash that you wish to use up, some handspun yarn or that single skein that doesn't quite go with anything else, and this is the perfect project for that, and an excellent stash buster as well.  And, just like with knitting or crocheting, you will end up with a beautiful piece of work that you can proudly display in your home, or gift to someone you care about!
If you were not wanting to weave a wall hanging, you could also leave off the fringe, make sure your frame is the correct size(ie: big enough), and use the custom woven fabric as placemats, or end table covers.  You can also find a smaller picture frame, and use the technique to weave custom coasters.  You could also weave a bunch of the little squares in the same or various colors, and use them to make a blanket, or a cushion cover or anything else your mind can conceive.  The uses are limited only by our imagination!
Special thanks to Yarnspirations for sharing this free pattern/instruction sheet with us!
To obtain the .pdf instructions for weaving this wall hanging, please click here.
I would love to see photos of your finished products!  You can inspire us all with the colors you've chosen and how you worked them into the tapestry!
Be Well Friends!
Laura & Bruce
As always, if you would like to see our site continue providing you with free patterns and inspirations, and participate in our giveaways, it would help us a great deal if you could click on some or all of the Google Ads on The Spinner's Husband blog page.  Clicking is free, and there is no obligation to purchase anything.  We truly appreciate your help with this!