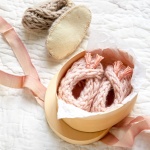 1. Finger Knit Baby Booties  Aww! I love these. I'm so proud that humble finger knitting can create something so darling! I love the embroidery thread details, too. Wouldn't you love to give these to a special mama at your next baby shower? What an original and gorgeous gift! These are finger knit on top with a blanket stitched felt sole. Too adorable for words. Here it is on Ravelry.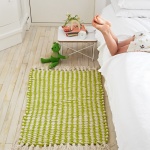 2. Finger Knit Woven Rug  This project is fabulous because it uses a lot of finger knitting in a beautiful way. How fun would it be to buy yarn you like and work together your kiddo on this project? The result is so squishy and fabulous, and the result will be something you made together! If you want to see it on Ravelry, it's here.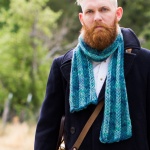 3. Finger Knit Cashmere Scarf.  Create this scarf by attaching rows of finger knitting to one another as you finger knit. I show you how step-by-step in the book. It has a simple finger knit border to finish it off.  I love the look.  My guy loves the feel, light and cozy.  You can find details about it on Ravelry here.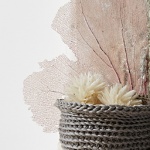 4. Finger Knit Linen Baskets.  These finger knit baskets are so much fun to make and watch take shape! This technique is done by attaching finger knitting in a spiral. It is easy to learn. I love how it is reversible. See above how both sides look amazing! Details on the pattern on Ravelry here.
5. Finger Knit Octopus Family  There are plenty of simple finger knit projects in the book that don't require attached finger knitting. I adore this octopus family above. Perfect for a quick handmade gift! On Ravelry, to
In the book, you'll find other great finger knitting home decor projects, like a finger knit word wall hanging, a giant monogram, a stool cover, and a book nook. There are fun things like a jump rope, a dog collar and bows, plus two stylish necklace projects! And, don't forget the amazing projects, too.