Knit Yarn into Gold Just Like Rumpelstiltskin – Free Pattern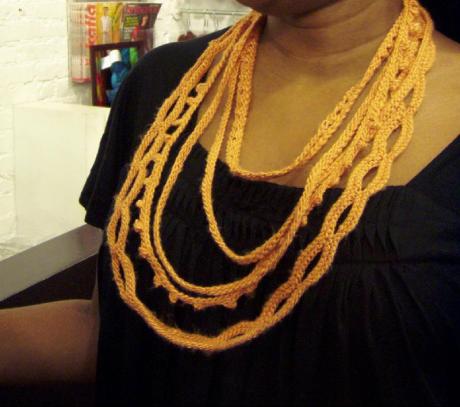 |
I decided to end the week on a frivolous note, and provide you with a knit pattern for a beautiful statement piece of jewellery made from pure silk.
The knit pattern is quite straightforward, so you should have no issues with working through it, but if you do get stuck, you know where we are.
If you make it and like it, please let us know and send some pics of your finished object too!!  If you like it a great deal, then you can begin imagining it done in all different colors of silk so you can wear it with whatever other colors you fancy!
This also makes a very special but very speedy gift for someone in your life, so start naming your BFF's!
Special thanks to Alyssa Kabel of The Classy Vegan Word Press blog for providing us with these lovely free instructions!
To grab your copy of the knit pattern so you can get busy spinning "straw" into "gold", please click here.
Be Well Friends!
Laura & Bruce
**If you have an extra moment or two to support The Spinner's Husband Blog, which provides you with daily tips, tricks and free patterns, please click on some of the Google Ads on our blog page.  Clicking is free for you, but helps us a great deal!  We thank you!!