Knit a Top Down Hat for Trying Something Different! Free Pattern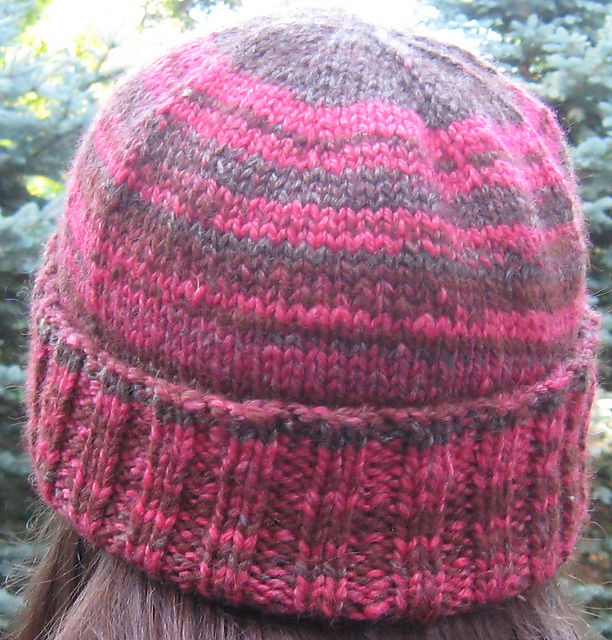 |
When setting out to knit a hat, most knitters automatically think of casting on enough stitches for the brim, working a band of ribbing and then finishing off with some stockinette or other knit stitch and decreasing to a close as you go.  Today we are going to "mix it up" a little and start at the top of the hat and work our way down!
This method of making a hat is very practical, because you are able to try it on as you go to get a good idea of how much further you need to go, or how many more stitches to increase to get that perfect, custom made fit!  I have never knit a top down hat yet, although I make them all the time with crochet, and love the versatility and ease with which they come together, and the greater customization ability it provides.
This hat makes an awesome gift, and you could also pair it with an infinity scarf made out of the same yarn as a substantial gift, or make a number of hats for charity by using up some unused skeins of yarn or yarn remnants from previous projects that you have been …ahem…. "hoarding"(I mean saving) in your stash, which qualifies it as a fantastic stash buster as well!
This hat recipe is great too, because it gives the hat a nice flat top, which I far prefer to the pointier topped hats.  The other nice thing about this pattern is that it allows you to use any size needle/yarn, and still come up with a great hat that fits "like a glove"!  Tee Hee!
Special thanks to Heidi Nick for this awesome top down hat recipe, which can be downloaded from Ravelry by clicking here.
Be Well Friends!
Laura & Bruce