Knit these Adorable Little Gift Bags to Enhance your Gifting!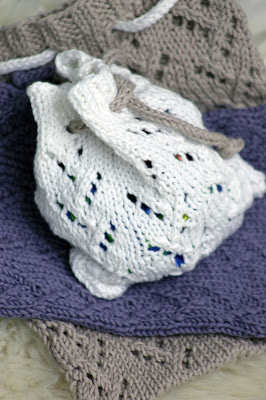 |
Add a little love to your next gift and knit your own gift bag.
After all there's no better way to show someone you care than by giving up a little extra time to go the extra mile for them, and with this wonderful knit gift bag project you can do just that.
They are smaller bags in size, although I'm sure you could adapt the pattern to make some bigger ones if you would like.  In their smaller size however, they make awesome stash busters, as they do not require a great deal of yarn.  You can make them in the recipient's favorite color as a means of further personalizing the gift.
They would also work fantastically as little scent holding bags or sachets, because the knit eyelet holes would allow scent through perfectly.  You could fill them with potpourri, energizing herbs, soothing herbs like lavender or even rose petals.  You can put a sachet of herbs in each of your drawers to keep your clothing fresh, or in your closet to freshen it, and also, if using lavender, you can put a sachet in each wool storage container that you have, as moths and insects find lavender to be repelling, and avoid it at all costs.  I put little sachets of lavender and lavendula under mine and my husband's pillows for a soothing scent while sleeping!
It's a great summer knitting project too, because they are small, and you can stay cool while knitting them because they don't hang all over you the way a blanket or sweater would while you are making them.
Special thanks to Gretchen Tracy of Balls to the Walls Knits Blog for sharing this knit gift bag pattern with us all!
You can access the pattern for these adorable knit gift bags by clicking here.
Be Well Friends!
Laura & Bruce
Please remember to help support our site in bringing you free patterns by clicking on one or more or all of the Google Ads on The Spinner's Husband blog page.  No purchase necessary, just a click will suffice!  We truly appreciate it!