Senior must stop knitting or lose home!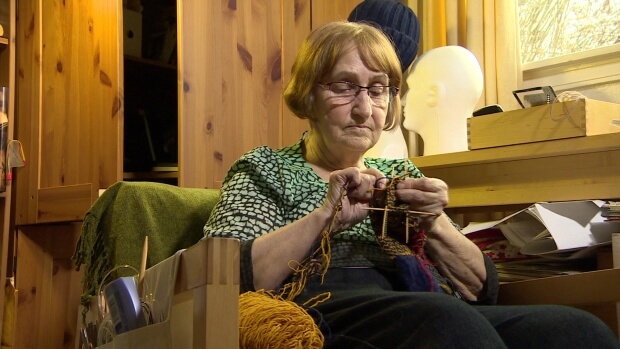 This subject is a little off topic from what we normally talk about, but it revolves around knitting and has outraged and sickened me to the point that I need to share and seek opinions about the situation.  A Senior Citizen, 69 yrs old, in Edmonton has been told to stop selling her crafts/knitting or become homeless, as she cannot afford to keep her apartment of 24 years without the small housing subsidy she has been receiving monthly.
Pat Reddy is 69 years old.  From what I understand, she knits and sells her knitting and handiwork at local craft fairs and privately in order to help make ends meet or afford a few extras.  I think whatever she can do to make a little extra money for herself at her age, or in reality any age, is to be commended.  Instead, she has been told that she must promise/sign a waiver not to sell her knitting or handiwork again, or she will lose her $161 monthly housing subsidy, without which, she would not be able to afford her rent.
Special thanks to CBC News Edmonton for bringing us this story and for shedding light on this outrageous situation.
To get your blood boiling, you can read the whole article and watch the video of this lovely, hard working senior lady and her knitting and housing predicament by clicking here.
Please then share your thoughts on this situation with the rest of us!
Be Well Friends
Laura & Bruce
**If possible, please click on some of the Google Ads on the Spinner's Husband blog page to help support our site in bringing you news and free patterns every day.  While there, you can also check out the Amazon ads to stock up on any craft supplies you may need or want.  We thank you!!

About The Author
Laura and Bruce
To say simply "We Love Yarn" would be a serious understatement. My wife has been into Crocheting, Knitting and more recently Spinning for as long as I have known her. I on the other hand, am a computer geek who loves woodworking.