Knit a Simple but Gorgeous Zauberball Shawl! Free Pattern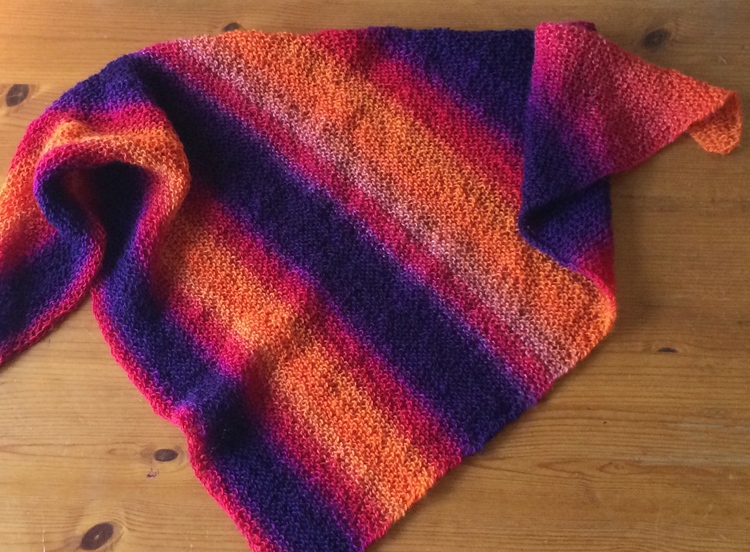 |
This knit shawl pattern was written for the Zauberball self striping yarn.  It is incredibly bold and beautiful and beyond incredibly easy!  While designed with a particular yarn in mind, you can really use the knitting pattern with any type of yarn, plain, self striping, long color repeats like Noro etc.
Just remember to adjust the knitting needle size by at least a size and a half up from what is recommended, to accommodate whichever yarn you are going to be using.  The reason that you want to use a size or so larger than recommended on the ball band, is so that the yarn can have some freedom of movement to drape and to develop a wonderful soft hand to the shawl.
My 'puter was very sick last night – at least 10 years old, and actually died this morning of natural causes due to old age.  Bruce is in our office right now putting up a new one for me, but in the meantime I am working on my trusty laptop that my son gave me, because he feels it's too slow!  It's great to have a laptop on "bad days", so that I can surf and write to you from the comfort of my heating pad, heating blanket and cozy bed.  It's the best of both worlds really.
However, back to the shawl.  I was surfing patterns last night looking for some new inspiration for you and for me, and I came across this website and this particular shawl pattern.  I have seen it before, but never really acted on it, and did not realize how phenomenally simple it really is.  Basically, you are using a self-striping yarn, and increasing one stitch every right side row – when you are out of wool, bind off.  That's it, that's all.  Fini!!  If you want the shawl to be bigger, like the monstrous, "ginormous" ones that you can wrap at least 2 people in, just continue knitting with a second skein of yarn.  You can also use odds and ends from your stash, and make this your ongoing stash buster secret weapon, and as you have leftovers, knit them into the shawl, and then tuck it away until you have more, and so on.  Then it can be a historical marker of all the projects that have gone before it, and you can reminisce whenever looking at it.
I was so curious about the ease of this pattern last night, that I cast it on myself and started working on it to see how it was.  It is really and truly as simple as it appears, and yet looks beautiful, in that understated simplistic, minimalist manner that we are seeing more of lately.  I am using an angora blend yarn in transitional dark turquoise to white, dk weight with a 5.5mm needle, and I am really happy with the results thus far.   The daintiness of the yarn is not getting lost in any type of complicated stitch patterns, and making the ordinary garter stitch look and feel so soft an luscious that you just can't wait to get your hands on the fabric!
In the instructions, they tell you to place a marker in the space right after the first stitch, which is always slipped, and the marker needs to go on the right side of the work, so you know which stitch you need to use for the increase (kfb – knit front and back).  After several rows, I just took away the marker, and know which side is the front of my work, so if you have a way of doing that for yourself too, it's much less persnickety that contending with slipping a stitch marker constantly.
Special thanks to Noble Knits Blog for sharing this simple knit shawl pattern with us.  You can access it by clicking here.
Be Well Friends!
Laura & Bruce