Crochet Star Wars Light Saber – Free Pattern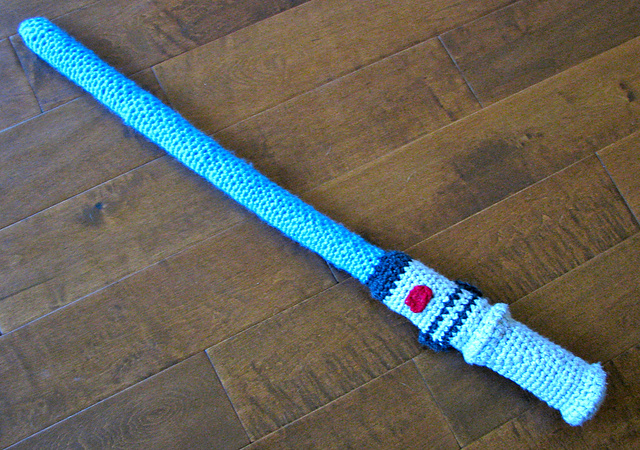 |
Unless you have been living under a rock, you will know that the long awaited Star Wars movie has now been released to clamoring masses everywhere, and that the press has been very favorable, and its a smashing success!  Here is an awesome crochet prop from that movie!
You can crochet your little Jedi or Sith their very own imagination-friendly light saber with these easy instructions.
The inside of the light saber is brilliantly stuffed with light foam pipe insulation giving it strength, but softness and safety at the same time.
You also don't have to make the handle the same color as the example.  If it were me, I would use a grey or light black handle with a red button, and then only have the saber blade itself blue or green or whatever color grabs your fancy at the moment.
If you have the time, you could potentially even get one finished before Christmas Eve, as a great last minute gift idea for a child or Star Wars fanatic that you know!
Like a number of projects that I have posted, this light saber is a great stashbuster, and can eat up some of those yarn remnants you have hanging around.  If so inclined, make 2, so that your little Jedi can have some help in defending the universe!
Special thanks to Alli Hartley for sharing this free pattern for her son's light saber with us!
Let the force be with you, and download your crochet light saber pattern from Ravelry by clicking here
Be Well Friends!
Laura & Bruce
**As previously mentioned we could really use your help, and would appreciate it if you could click on some of the ad links on our Spinner's Husband Blog page, as this is what enables us to continue bringing you extra special and free crochet patterns each day!  We also encourage you to look at the Amazon Ads on the side of the page to check out our listings for additional crafting supplies.  Thank you so much in advance for any assistance you can give us in this regard!