Crochet this Adorable Kokeshi Doll! Free Pattern!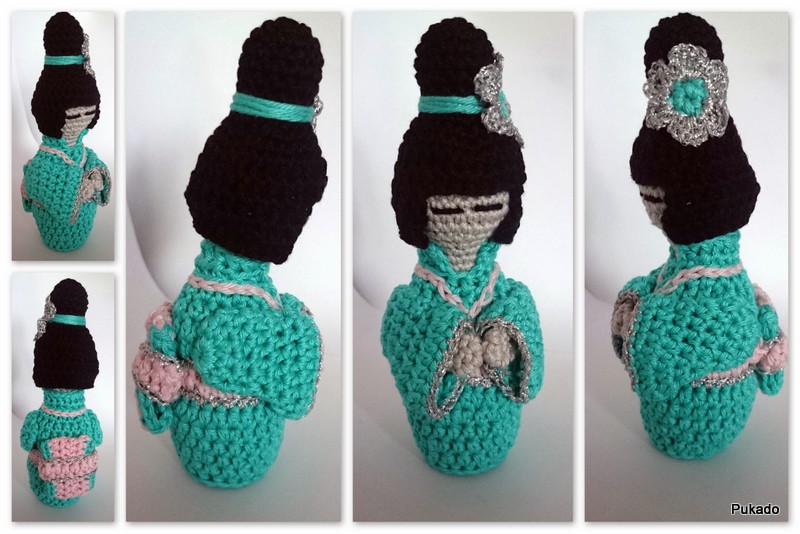 |
Here I am again with another free crochet pattern for you!
The week is drawing to a close again!  I swear, the older I get, the faster the time flies by!  Do any of you experience that as well?   One of the nice things about crochet, is that it keeps your mind active and slows the almost inevitable deterioration of our mind, thinking processes etc as we age!  They have done studies to prove that crafting can even prevent or slow the onset of Alzheimer's in most people!
With all that in mind, I would love to introduce you to this adorable little Japanese Kokeshi doll.  She would look pretty sitting on a shelf in your home with her dress in the same color as the overall color theme of the room, or a phenomenal toy to give to a little one in your life if you have any!
Most interpretations of the word Kokeshi are centered around children, with some believing that Kokeshi represent the wish for a healthy child, and others that they bring children closer to the mountain spirits. Many people also agree that they were originally exchanged as tokens of friendship, with messages concealed within.  Due to their simplistic shape, they were appealing to all ages, and the wooden ones were even used historically as a teething tool for babies.  The traditional Kokeshi dolls were made from wood which had to be placed outside for one to five years to weather before being used to carve the dolls.
Now fiber artists are making these wee dolls too, and their popularity is still growing.  They are great stash busters, and a great "in between" project to work on when you need a break from a big project you are working on, but still feel like crocheting.  They would also make great little personalized Christmas Gifts, or anytime gifts as well!
I hope you enjoy this free crochet pattern for the Kokeshi dolls, which you can access by clicking here.
Speaking of clicking, we have a big favor to ask of you.  If you enjoy reading this blog and getting free crochet patterns brought to you every day, please click on some of the ad links on our Spinner's Husband website.  You don't have to purchase anything if you don't want to, but please click on the links.  We truly appreciate it!
Be Well Friends
Laura & Bruce