Crochet a Walker Caddy for Yourself or a Senior You Know – Free Pattern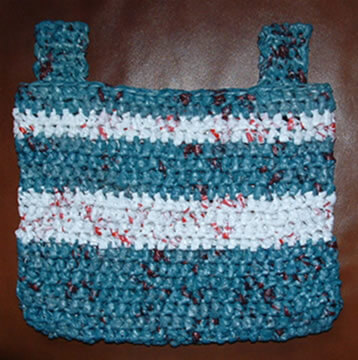 |
When one finds themself in the position of having to use a walker, it requires a pretty big adjustment, including no longer having your hands free while walking from room to room.  This is where this crochet Walker Caddy will become an invaluable accessory for taking important items from room to room with you in as few trips as possible.
Another feature that I like about this crochet Walker Caddy, is that it is made with plastic yarn, cut from grocery bags, so it is doing a part for recycling as well!  The fact that it is plastic yarn also makes it easily wiped should anything spill on it.
You can of course also make it out of a regular acrylic yarn so that it can be tossed in the washer and dryer, or you could use t-shirt yarn for a more casual, comfortable, laid-back look, and that could also be put in the washer and dryer as necessary.
This project, if you decide not to use the plastic bag yarn, can be made using odds and ends from your stash.  It is a quickly made project, and if the mood struck, you could make up some additional ones on cold, winter nights to come, to donate to a Senior or Hospice/Palliative Care facility to help out some of the residents who have no family or friends that come to visit with them.  It will touch them greatly that someone thought enough of them to make them a gift.
Special thanks to Recycle Cindy for sharing this special recycled bag crochet Walker Caddy pattern with us.
To crochet this free recyled Walker Totebag, please click here.
Be Well Friends!
Laura & Bruce
**If possible, could we please ask that you click on several of the Google Ads on our Spinner's Husband blog page in order to support our site and enable us to continue providing you with these free fun patterns daily!  You can also check out the Amazon Ads on the right hand side of the page to stock up on all your crafting needs!  We truly appreciate your help and support thus far.