A Crocheted Rug for the Fall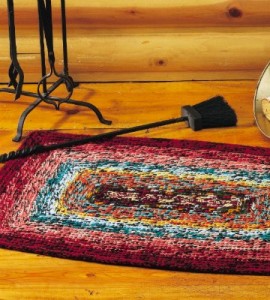 |
Fall is Approaching and this is a good Crocheted Rug Project.
This pattern says that the rug is a 2×3, but some of the crocheters that have made this come out at about 1 1/2 by 3.
This is an easy crochet and you can adjust the pattern to fit the size of rug you need.
Happy Fall Crocheting.
Materials

Fall Crocheted Rug

28 ounces of 4-ply worsted-weight yarn in assorted colors
size N/15 (10mm) crochet hook or size needed to obtain correct gauge
yarn needle or size 13 tapestry needle
four safety pins
scissors

Instructions

GAUGE: 10 scs and 5 rnds (10 rows) = 4 inches.

Stitches used: Refer to knitting/crocheting abbreviations below.

DIRECTIONS:

Organize your yarn to decide where to use the colors. Shorter lengths should be used at the beginning (center) of the rug and longer lengths should be saved for the end.
Decide how to combine the colors. (Three strands of yarn are used throughout.) For continuity, carry one color throughout the entire piece. Different dye lots or shades of this color can be used. Black was used in the rug shown in the photo below.
Choose different amounts of each color. Each color should change in a different spot. When one color ends, pick up a new color and continue crocheting, leaving 3- to 4-inch tails of both colors. The tails can be woven in later.
Rnd 1: Holding three strands of worsted-weight yarn as if they were one, ch 35 (not counting the lp on hk); sc in second ch from hk and each remaining ch until 1 remains; work 3 scs in last ch and mark center st with a safety pin; con­tinuing in lps on opposite side of beg-ch, sc in each ch until 1 remains; work 3 scs in last ch and mark center st with a safety pin: count 72 scs.
Rnd 2: Working in back lps only, * sc in each st until 1 remains before marked st; work 3 scs in next st and mark the center st; remove pin in previous rnd and sc in next st; work 3 scs in next st and mark the center st; rep from * one more time.
Rnd 3: * Sc in back lp of each st to next marked st; work 3 scs in both lps of marked st; move the pin to the new center st; rep from * around.
Repeat Rnd 3 until rug measures 24 x 35 inches or desired size.
Final Rnd: Working through both lps of each st, sl st in each st around, removing markers as you st. Fasten off. Use needle to weave in loose ends.

FINISHED SIZE: Rug shown is about 35 inches long x 24 inches wide.

Fall Crocheted Rug from Rose Pirrone of Bayside, New York