Tips for Beginners and Five Common Crochet Mistakes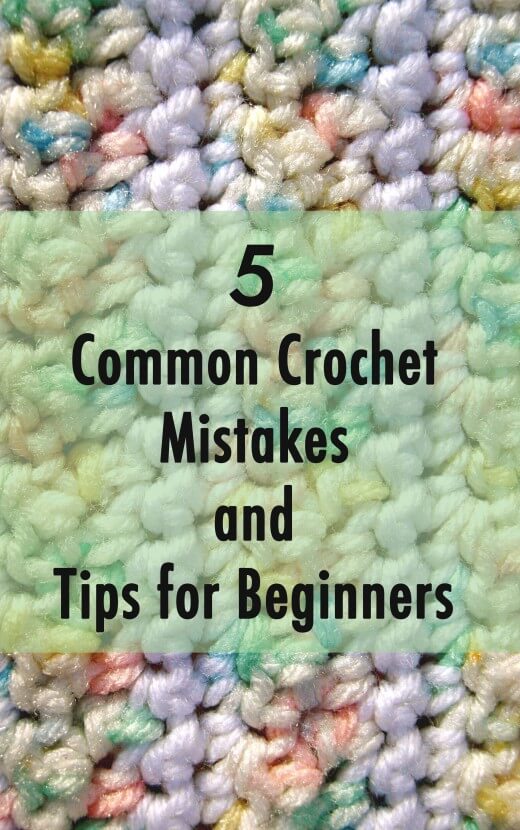 |
Some good tips on Crochet Mistakes.
She goes over some mistakes that a beginner may make like only crocheting the front loops.
I also liked her ones on why is my project so wide and the opposite one of why is it shrinking.
We have all been there.
Learning to crochet is hard. When you're first starting out you can be so focused on making the correct stitches that you don't notice your projects turning out a bit wonky.

This article will go over the most common crochet mistakes for beginners.  Correcting crochet mistakes is easy.

Crochet Troubleshooting: Only Crocheting the Front Loop

The most common mistake made by beginners is to only crochet using the front loop.

Once you fix the problem, you will also realize that the stitches themselves look different. If the front of your crochet projects looks slightly different from the back, you probably are using only one loop.

Now, some patterns say to only use one loop, and that's just fine. Those patterns account for the extra give and the look of front-loop crochet.

Crochet Troubleshooting: "Why is My Crochet Blanket Getting Wider?"

You might have noticed when crocheting a scarf or blanket that the number of stitches per row just keeps growing until it looks like you're trying to make a trapezoid. When this happens, you likely already know the problem: you aren't stopping or starting on the correct spot. Here are some general rules:

Single crochets start in the first stitch of the row, directly next to the chain.
Double crochets start in the second stitch of the row, one stitch between it and the chain.
Count your stitches!

I know counting your stitches can be really tedious, but count the number of stitches you made in the first row, and then when you hit that number on the second row, stop and turn. If the edge is still uneven, that means you're likely starting in the wrong stitch.

Crochet Troubleshooting: Overly Tight Stitches

Okay, we all get a little attached to our crochet projects, but holding on too tightly only leads to impossibly tight stitches that are difficult to work with. Remember when you're making your first row: you have to fit another row into these loops later!

Practice these simple steps to loosen your hold on the yarn and hook:

Remind yourself that the yarn cannot run away.
Practice building self-esteem.
Take a deep breath and count to five.

If you have to loosen your grip to allow the yarn through for the next stitch, you are holding on too tightly. If your hands ache after only a few minutes, you are holding on too tightly. LET IT GO.

Crochet Troubleshooting: Is Your Amigurumi Inside Out?

 If your finished project looks too blocky, or the rows are too pronounced, or something about your stitches just doesn't look right, then it's possible your amigurumi could be inside out. First, rule out the single-loop problem discussed above and then try flipping the amigurumi and see if it looks better.

If you switched directions halfway through, either live with it, or rip out the part after the switch.