Crochet this Snuggly Kitty Cat Nest – Free Pattern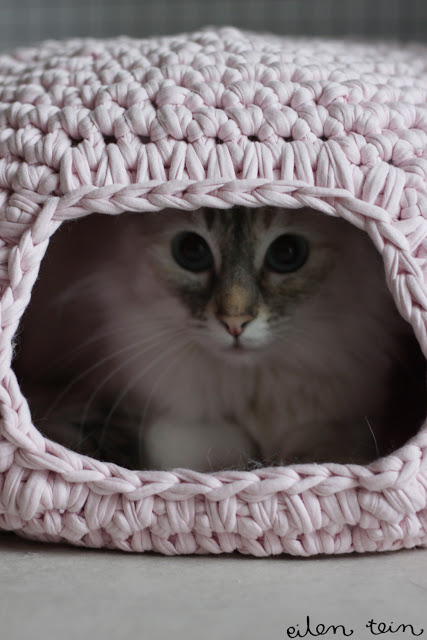 |
Those of us who have an adorable kitty cat or kitty cats, know how much they love to burrow and snuggle to obtain the highest level of warmth and comfort possible.   They also absolutely love yarn and the texture of crochet and knit fabrics.
There are little store bought snuggle pods that you can buy, however, they are most likely laced with a legion of chemicals left behind by the factory manufacturing process.  This free crochet pattern is for a hand made hidey hole for your fuzzy friend, made with Lion Brand Wool-Ease Thick and Quick which only takes 4 or so hours to work up, and not only gives your kitty comfort, but dispenses any fears you may have about them breathing in something that may not be good for them. It can be crocheted using any type of bulky yarn, and your kitty will thank you for it on his/her way into "snuggle town"!!
You can color coordinate it to match your decor also, making this crochet version a far better interior design choice than a gaudily colored store bought one.
It can be made in all one color, or striped or color blocked using any bulky yarn already in your stash if you have some, making it an excellent stash busting project as well, so it's a win/win/win project any way you look at it!
Special thanks to Hanne Katajamäki and the Eileen Tein blog for this terrific crochet pattern for a comfy cozy cat pod/nest/snuggle sack.
You can access the pattern by clicking here, and scrolling down to view the pattern in English if required.
Be Well and Cuddle Up Friends!
Laura & Bruce