Crochet Angel Stitch for you to learn with this Free Tutorial!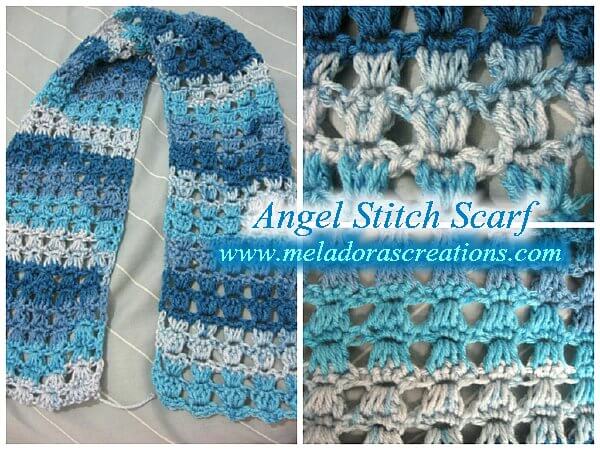 |
I don't know if you are like me and have my love for learning new things, but after all the years I have crocheted and knitted, I never have heard tell of the "Angel Stitch" being used in any pattern, so I was excited to see this tutorial.
Let me know if you like this idea, and would like to see more posts with crochet tips and tricks in them, or would prefer that I stick to just patterns!  Your feedback is very important to us.
The crochet Angel Stitch looks pretty straightforward and quite easy unless you end up with "unruly loops", but you should be able to pick it up within one or two viewings.
Special Thanks to Meladora Creations for recording and providing this free "slow motion" tutorial video.  It is clean, crisp, without alot of bells and whistles, and is easy to understand!  You can look around on her site while you are there, and find her Angel Stitch Crochet Scarf pattern and practice your newfound skill of crocheting in the Angel Stitch!
To view this free Angel Crochet Stitch video tutorial, please click here.
Be Well Friends!
Laura & Bruce
**If possible, could we please request that you click on some (or all) of the Google Ads on the Spinner's Husband Blog page to support us in bringing you new free patterns, tips and ideas on a daily basis?  While you are there, you can also check out the Amazon Ads on the right hand side of the blog page to stock up on any crafting supplies or anything else that you may want/need.  We thank you!